The Foundation
For over three decades, The Parodneck Foundation for Self-Help Housing and Community Development has played a pivotal role in providing financial, technical and organizing assistance to New York City's self-help housing and community development efforts. The mission of the Foundation, a city-wide, tax- exempt, not-for-profit agency, is to provide low and moderate-income residents with resources and capabilities that will enable them to create, own, and/or manage their own housing and improve their neighborhoods. Since 1970, the Foundation has helped tens of thousands of low and moderate income households obtain and preserve decent, safe, affordable housing and has provided crucial support to many important planning and community development projects.
During the 1970′s, The Parodneck Foundation provided funds and technical assistance to residents seeking to purchase buildings from absentee owners in what became the city's first ownership transfer program. The Foundation was the first organization to fund local "sweat equity" projects that enabled residents to leverage government funds to rehabilitate and take ownership of abandoned buildings. In the 1980s, the Foundation expanded the range of its activities by assisting the city's community district boards to develop and gain acceptance of their own community land use and development plans. It also developed a new program to provide financial and technical assistance to senior citizen homeowners. During the 1990s the Foundation became the lead supporter of a new, innovative mutual housing program that rescues and preserves affordable housing. Most recently, the Foundation has been at the forefront of efforts to address the increasingly widespread problem of predatory lending in New York City.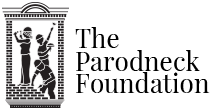 History of our Logo
Since 1970, The Parodneck Foundation has worked with groups of residents that attempt to rehabilitate their buildings through self-management. One resident, Ernesto Ramos, who was a Homesteader on the Lower East Side, designed and donated the logo for the commemoration of our 50th Anniversary, which we celebrated in 1987.